JuiceboxBuilder Tour
JuiceboxBuilder is a free desktop application that allows you to easily build Juicebox galleries; automatically resizing images, generating thumbnails and creating the required files to upload to your website.
The JuiceboxBuilder application installer is included in the Juicebox download. JuiceboxBuilder is an Adobe AIR application that runs on Windows and Mac OS.
JuiceboxBuilder has three main panels that walk you through the process of building a gallery.
Images Panel
The Images Panel allows you to import images, resize them, re-order them and add captions and links. Images can be loaded locally or from Flickr. JuiceboxBuilder-Pro additionally allows you to add watermarks to your images and modify thumbnail sizes.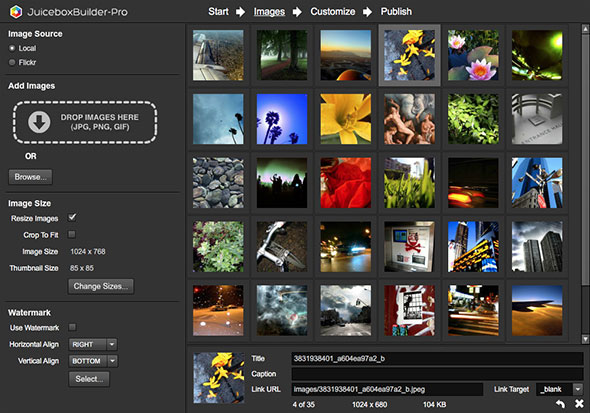 Customize Panel
The Customize Panel allows you to customize the appearance and behaviour of your gallery by modifying the config options. A live preview displays changes as they are made. The panel also allows you to load and save gallery presets.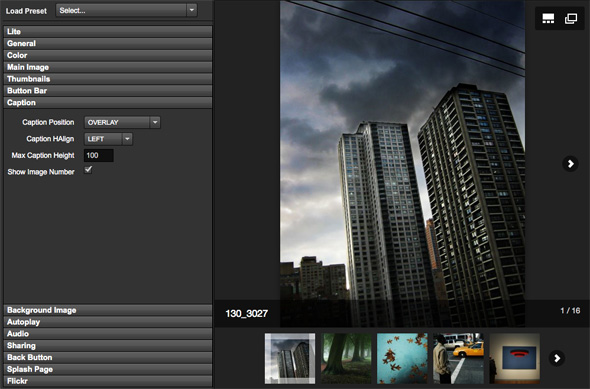 Publish Panel
The Publish Panel handles saving your gallery files to a specified folder. It also generates the required embed code to copy and paste into a HTML page for embedding the gallery.